Disease management of alpha1-antitrypsin (AAT) deficiency
Liver disease management in patients with AAT deficiency
Liver disease due to AAT deficiency is treated using the same general supportive measures as other types of liver disease. The focus is to lessen the impact of complications (e.g. cirrhosis) or prevent them altogether.1
Most patients with a PiZZ genotype are monitored annually by a specialist, but management is typically conservative in the absence of signs or symptoms of liver disease1
If complications are life-threatening, liver transplantation may be considered1
If the donor liver is genotype PiMM, AAT levels are expected to return to a normal range1
Lung disease management in patients with AAT deficiency
The American Thoracic Society/European Respiratory Society and the COPD Foundation recommend augmentation therapy, the only specific treatment available for AAT deficiency.*,2,3
The American Thoracic Society/European Respiratory Society and the Global Initiative for Chronic Obstructive Lung Disease (GOLD) recommend smoking cessation for the general management of AAT deficiency and associated COPD, because:2,4
Smokers with even one deficiency allele have an increased risk of developing COPD5
Smokers have greater declines in FEV1 vs non- or ex-smokers6
Smoking cessation improves survival rates in patients with AAT deficiency6
Mean annual decrease in FEV1 in patients with severe AAT deficiency6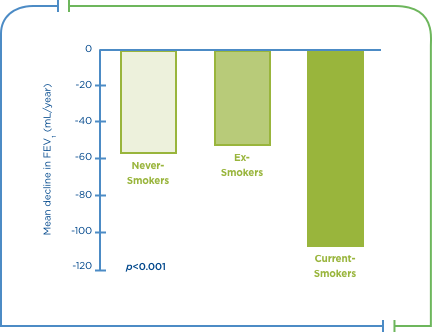 Vacunación2,4
Pneumococcal+ and influenza vaccinations reduce the incidence of community-acquired pneumonia and the risk of serious lower respiratory tract infections, respectively2,4
Control de exacerbaciones
In an outpatient setting, exacerbations are managed with antibiotics, bronchodilators, corticosteroids and respiratory support (oxygen therapy and ventilator support as needed)2,4
Minimización de la exposición y la contaminación en el hogar o en el trabajo
Symptoms and the frequency and severity of exacerbations are reduced with pharmacologic therapy that includes use of bronchodilators and inhaled steroids2,4
Rehabilitación pulmonar
Pulmonary rehabilitation improves endurance, improves quality of life, and reduces hospitalisations2,4
Uso de oxígeno a largo plazo si la hipoxemia arterial crónica en reposo es grave y ventilación asistida no invasiva para pacientes con hipercapnia diurna pronunciada y persistente, o durante viajes aéreos.2,4
Health management programs improve patient outcomes
Augmentation therapy health management programs are designed to empower patients with AAT deficiency through structured education and information, therapy and peer-to-peer support.7,8
Patients enrolled in a health management program had:8
| | | |
| --- | --- | --- |
| | | 36.1% decrease in severe exacerbations8 |
| | | 11.4% decrease in adjusted total mean costs8 |
| | | Improved QoL7 |
A non-randomised, non-concurrent trial comparing outcomes in subjects (N=878) enrolled in ADMAPP over one year pre- and post-intervention. Telephone surveys were conducted monthly and HRQoL data were collected using the SGRQ and SF-36.7
A retrospective, two-year study comparing outcomes in a 12-month observation period with augmentation therapy alone (n=232) and 12-month intervention period with augmentation therapy plus the PROLASTIN DIRECT® program (n=213).8
Enrolled patients also demonstrated:
12% and 21% fewer unscheduled physician and emergency room visits, respectively7
Increased long-term oxygen therapy and bronchodilator use by 5% and 10%, respectively7
AAT: alpha1 antitrypsin; ADMAPP: Alpha-1 Disease Management and Prevention Program; COPD: chronic obstructive pulmonary disease; FEV1: forced expiratory volume in 1 second; HRQoL: health-related quality of life; NHLBI: National Heart Lung and Blood Institute; QoL: quality of life; SF-36; Short-Form 36; SGRQ: St. George's Research Questionnaire.
*Recommended for individuals with FEV1 35-60% of predicted.
†In all patients ≥65 and younger patients with significant comorbidities.

References
Teckman JH. Liver disease in alpha-1 antitrypsin deficiency: current understanding and future therapy. COPD. 2013;10 Suppl 1:35-43.
ATS, ERS. American Thoracic Society/European Respiratory Society statement: standards for the diagnosis and management of individuals with alpha-1 antitrypsin deficiency. Am J Respir Crit Care Med. 2003;168(7):818-900.
Sandhaus RA, Turino G, Brantly ML, et al. The diagnosis and management of alpha-1 antitrypsin deficiency in the adult (Clinical Practice Guidelines). Chronic Obstr Pulm Dis (Miami). 2016;3(3):668-82.
Global Initiative for Chronic Obstructive Lung Disease. Global strategy for the diagnosis, management, and prevention of chronic obstructive pulmonary disease. 2020 [Updated]. Available at: http://goldcopd.org/gold-2017-global-strategy-diagnosis-management-prevention-copd/.
Silverman EK, Sandhaus RA. Clinical practice. Alpha1-antitrypsin deficiency. N Engl J Med. 2009;360(26):2749-57.
The Alpha-1-Antitrypsin Deficiency Registry Study Group. Survival and FEV1 decline in individuals with severe deficiency of alpha1-antitrypsin. Am J Respir Crit Care Med. 1998;158(1):49-59.
Campos MA, Alazemi S, Zhang G, et al. Effects of a disease management program in individuals with alpha-1 antitrypsin deficiency. COPD. 2009;6(1):31-40.
Campos MA, Runken MC, Davis AM, et al. Impact of a Health Management Program on Healthcare Outcomes among Patients on Augmentation Therapy for Alpha 1-Antitrypsin Deficiency: An Insurance Claims Analysis. Adv Ther. 2018;35(4):467-81.